Michelle O'Connell was not ready to die. Do not let Michelle's story die. We have a CANCER in Florida. Governor Rick Scott can cure this CANCER and you can help too by signing this petition. Share Michelle's story with your friends – ask your friends to share Michelle's story with their friends – please ask everyone you know to sign this petition.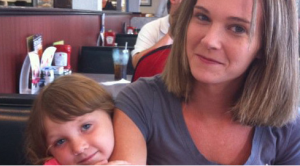 On September 2, 2010 caring, smart, beautiful Michelle O'Connell was taken from her family. Behind she left a precious young daughter, mother, sisters, brothers and many, many friends. Not a soul that knew Michelle believes for a moment that she was distraught in any way. Her family and friends also know that there is no way under any circumstance she would have left her daughter behind without a mother to care for her.
Michelle's family and friends undoubtedly believe that Michelle's boyfriend, Jeremy Banks, an officer with the St. Johns County Sheriff's Department, killed her and claimed she committed suicide. However after Jeremy told his fellow officers his story – that Michelle broke up with him and took her own life – the St. Johns County sheriff's department effectively stopped their investigation. Jeremy was never treated like a suspect – police treated him like a brother.
Jeremy was not immediately removed from the crime scene, not taken to headquarters, not photographed, not tested for drugs or alcohol, not tested for gunpowder residue, nor were his clothes seized for crime laboratory testing.
Jeremy was, however, questioned in a St. Johns County Sherriff's Department patrol car by an investigating sheriff deputy, in the presence of his off duty supervisor.
No evidence was tested, no family or neighbors were interviewed and no data was downloaded from Michelle's cellphone despite the fact that she had never shown signs of being suicidal before. Michelle would never have taken her own life. She loved her four-year-old daughter, Alexis too much. She had just received a promotion for a job she was supposed to start the next day. She sent a text to her sister stating she was leaving to get her daughter and less than 5 minutes later was shot and killed.
There are two neighbors who stated they heard a woman cry for help, then a shot, another cry for help, and another shot. They passed FBI issued polygraph tests.
The Florida Department of Law Enforcement believes without a doubt that this was a homicide and still State Attorney Brad King refuses to take this case to a grand jury. In March of 2012 the FDLE wrote to King: "It is my office's opinion based on the facts of this case and your memorandum that this case clearly warrants an Inquest into the death of Michelle O'Connell…"
The O'Connell Family and Michelle's friends are calling on Governor Rick Scott to honor the Florida Department of Law Enforcement's request for a coroner's inquest into the shooting death of Michelle O'Connell because the evidence is not consistent with a suicide. In ordering this inquest, the message will be sent that the protection of women involved in domestic conflicts will get the full benefit of the law.
Please sign the petition to Florida Governor RICK SCOTT to a ORDER CORONER'S INQUEST IN THE DEATH OF MS. MICHELLE O'CONNELL: (link immediately following)
http://www.change.org/petitions/fl-gov-rick-l-scott-order-a-coroner-s-inquest-into-the-death-of-michelle-o-connell?recruiter=32352059&utm_campaign…
Please watch the PBS Frontline documentary: "A Death in St. Augustine": (link immediately following)
http://www.pbs.org/wgbh/pages/frontline/death-in-st-augustine/
Read the New York Times investigation "Two Gunshots on a Summer Night": (link immediately following)