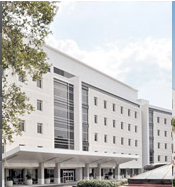 By Chip Skambis, May 15th, 2014 WCJB-TV20 ABC, Gainesville, FL
At least three mental health officials have been suspended from the Malcom Randall VA hospital in Gainesville after the federal Inspector General found a secret waiting list containing 200 patients. According to an internal email, the hospital has placed director of mental health services Peter Durand, administrative officer Karen Chin, and Dr. Rajiv Tandon on administrative leave.
"This is only the start," said Muriel Newman, president of the local chapter of the American Federation of Government Employees. According to Newman, management suspended the employees after an official from the Inspector General's office for the Washington D.C. bureau of the Department of Veterans Affairs found a secret waiting list containing 200 patients lying on a mental health employee's desk.
Reports of such waiting lists have been popping up almost daily at VA hospitals across the country as different whistleblowers come forward saying managers falsified waiting lists in order to achieve the goal of scheduling an appointment for a veteran within 14 days of receiving a call. Reaching that goal qualified the managers for bonuses from the federal government. "We don't have the staff to get patients an appointment within 14 days," said Newman.
When revelations of this practice surfaced at a VA hospital in Arizona, Newman said, upper management at the Gainesville VA hospital offered amnesty to any employees who came forward with secret waiting lists. Employees at the hospital, who agreed to speak on condition of anonymity, said they and their coworkers do not believe they'd have received amnesty if they came forward with the list.
"They don't actually mean it," said one employee.
No employees came forward, and two sweeps by the local Inspector General's office found no lists. However, an official with the D.C. Inspector General's office went over appointment logs and found a secret waiting list for mental health patients. While they couldn't give a number or names, the employees said that there have been veterans at the Gainesville hospital who have committed suicide while awaiting mental health care.
VA spokeswoman Cindy Snook did not return calls for comment.
http://www.wcjb.com/state-news-local-news-national-news/2014/05/three-suspended-falsified-waiting-list-gainesville-vamalcolm randall va medical center
Tags:
malcom randall veteran affairs medical center